So you want to learn how to RE all the crud you pull off dead bodies do you? Well, before you get started there are some things you need to know.
1. Loot:
There are two basic types of loot needed to begin your career as a Reverse Engineer; Stat items and junk. Stat items are clothes, armor, and jewelry which are looted off NPCs and on rare occasions animals. Junk loot are looted from a wide variety of NPCs. Not everything looted can be used in your RE.
The Junkyard
Nova-Inside
2. Reverse Engineer Tool:
All trader classes can make this tool, it is relatively simple and as easy as crafting tools to create perfect tools. Reverse Engineering tools are from a 0 to a 10.0 rating. This is absolutely vital to the reverse engineer project. I have not been able to test how much a difference a +1 tool has compared to a +10 tool, though I imagine that a +10 tool offers some sort of bonus.
3. Expertise
There is an expertise option available 'Deconstruction Techniques' that offer a 5-10 point bonus. This is vital if you want to use the re-reverse engineering mentioned later in this guide. Also there is an expertise option to create multi-stated attachments. Without this expertise you are limited to making single stat items.
4. Levels and Reverse Engineering
You can make an attachment or powerup regardless of level, as long as you are a trader (any except Structures). The power and strength of the attachment/powerup is directly related to the powerbit and modifier bit, not the skill of the person creating it. Reverse Engineering chance (Which increases at certain levels) does effect the strength of powerbits when they are created. So a low level character CAN reverse engineer loot clothing into powerbits, but the strength of the powerbit will be less then if a high level trader had Re'd the item.
OK with the basics out of the way time to get into the process of creating your attachments and powerups!
To make and attachment you need two things; a powerbit and a modifier bit.
Powerbit: This will effect the strength of your attachment. A powerbit is created using loot stat items. How this is created is to place your loot item into your reverse engineering tool and using the radial menu select 'Reverse Engineer'. After this is done a 'Power bit' will be created in your top-level inventory and the loot item will be destroyed. There is a random chance that the strength of the powerbit will be different then the power of the loot item RE'ed. Read the second post on how to maximize your bonuses and chances on make more powerful powerbits!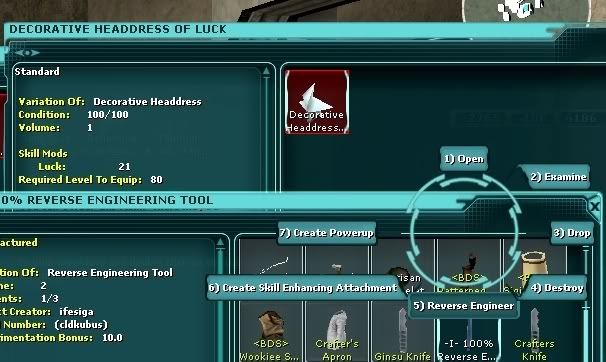 Modifier Bit: has made fantastic progress on the combinations needed, including MANY of the rare ones. To create your modifier bit you need two differing types of junk loot. For example to make a '2-handed melee action cost' modifier bit one combination is a 'Medical Device' and a 'Power Output Analyzer'. Once you have placed both items into the Reverse Engineer Tool use the radial menu again, selecting 'Reverse Engineer'. A modifier bit will be created in your top-level inventory. The junk loot in the tool will decrease by one each (Since junk loot stacks). To make a new modifier bit you will need to remove the junk loot from the tool and replace them, or merely reverse engineer again if you wanted to make more then one modifier bit.
Exotic Mods: These are simply any modifier that is not Strength, Precision, Constitution, Stamina, Agility, Luck, Camo, and Block Value.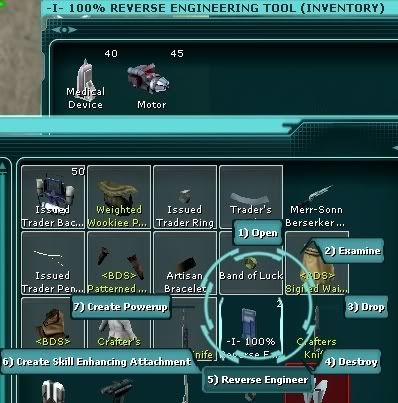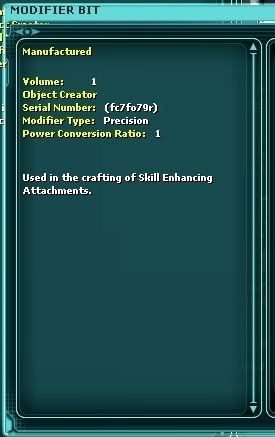 Now that you have your modifier bit and your powerbit it is time to create your attachment. Place your powerbit and modifier bit into your reverse engineering tool and use the radial menu to select 'Create Skill Enhancing Attachment'. When that has been selected the powerbit and modifier bit will be destroyed and an attachment will be created in your top-level inventory.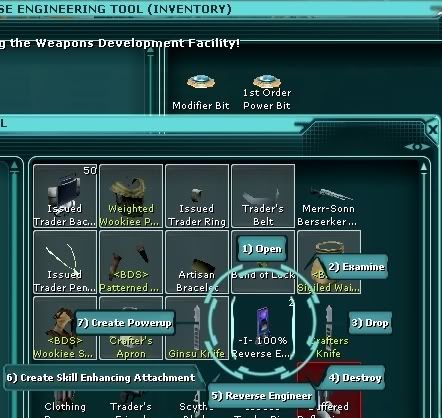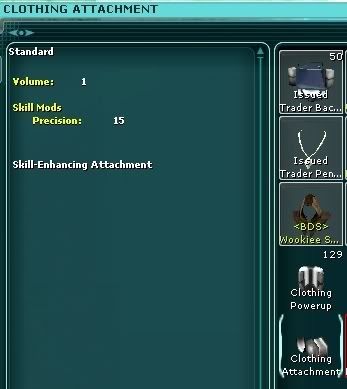 The type of attachment made is based on your level and skill modifier.
Domestics create clothing attachments. Shirt attachments are made when exotic mods are used.
Engineers create Weapon Attachments regardless of what it modifies.
Munitions create armor attachments. Breastplate attachments are created when exotic mods are used.
The power of the attachment is based on what it modifies and the strength of the powerbit used. Each Modifier bit contains an attribute called "Conversion Ratio". This number is used to divide the strength of the powerbit. For example a 'Healing Potency' modifier has a Conversion ratio of 8. What this means is the powerbit will be divided by 8 to come up with the attachment power, all fractions are lost. This means an 8 powerbit and a 12 powerbit will both create a 1 healing potency attachment, while a 16 will create a 2 healing potency attachment. This also means that there is a minimum strength of powerbit needed. A 7 powerbit will produce a +0 Healing Efficiency. Agility has a 1-conversion ratio, which means that the strength of the powerbit will be the strength of the attachment.
Powerups:
As well as being able to make skill enhancing attachments a trader can also create powers for specific items as well. Munitions create armor powerups, engineers create weapon powerups, and domestics create clothing powerups. You can only have one of each type of powerup active at a time, but can have a powerup active on all three items at the same time; shirt, weapon, or breastplate. Best news is they stack with each other and any stats currently on the article it is enhancing. A powerup lasts for 30 minutes of playtime, and you can make several uses of powerups from a single powerbit and modifier bit. Powerups are limited to single stats though, no combination STR/CON/STAM (Or anything else for that matter) powerups. I tried being creative and discovered that Experiment/Assembly powerups cannot be created.
The process of creating your powerup is the same as creating your attachment, except you select 'Create Powerup' on the radial menu.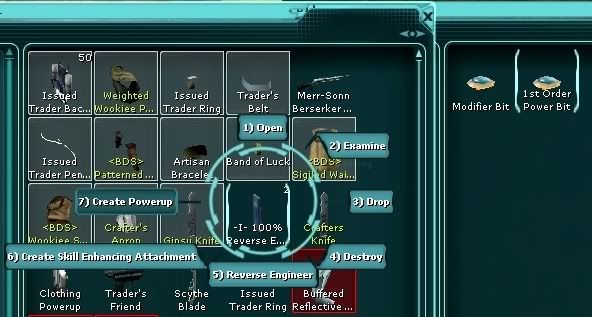 The strength of the Powerup is based off your characters RE Chance skill. The strength of the power up can be over three times that of what you would expect from the same combination of powerbit and modifier bit on an attachment. I have so far found lots of uses for powerups, because they are strong, and from one modifier bit and powerbit you can get over 30 hours of game time before having to get another! The amount of uses you get from a powerup is dependent not only on your RE Chance skill, but also the strength of the Powerbit used.
Congratulations on creating your one stat attachment! Read the second post for information on advanced Reverse Engineering!